It should come as no surprise that Jeff Weiner, the CEO of LinkedIn, has one of the best LinkedIn Profiles. While the arc of his career is impressive, there are plenty of accomplished executives whose LinkedIn profiles are unimpressive.
Ideally, everything about your profile should be focused on communicating your value to your target audience. The first thing you see when viewing this profile is the Background Image with the tagline "Connecting talent with opportunity at a massive scale." This message has been a part of LinkedIn's core marketing message for years: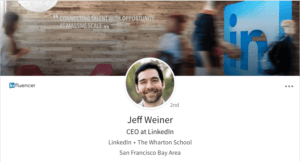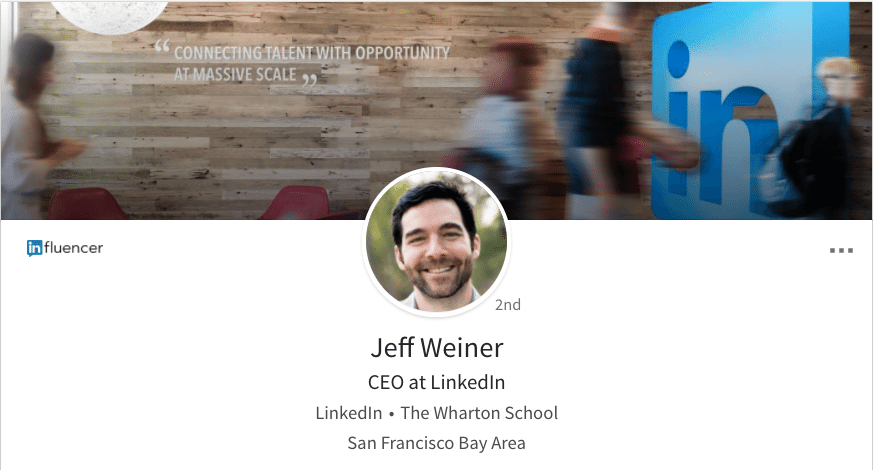 Your Headline helps the reader understand exactly what you do and why you're good at it. While this profile uses the default "Title at Company" Headline, further explanation isn't necessary. Anyone using LinkedIn already knows what LinkedIn does! Again, the key is understanding your target audience.
The header section or your profile will also contain the number of contacts you're connected with, and something over the magic "500+" threshold is ideal. The metric is tracked differently here because Jeff Wiener is an "Influencer." Just in case you need more social proof note that he has over 5 million Followers.
Your Experience section should showcase not just what you've done, but also demonstrate that you're good at it. You can highlight your quantifiable accomplishments in a bulleted list for more emphasis. Jeff Weiner certainly has an unusual number of accomplishments to draw on, but he does a great job quickly conveying some of his most important accomplishments. The Media section in this profile is a good example of the growth of video across all platforms including LinkedIn: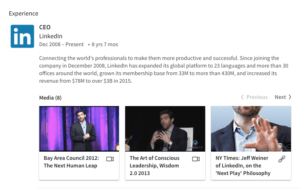 Finally, even the best LinkedIn profiles have room for improvement. My sense is that this profile hasn't been updated in a while. If I were rewriting this profile I'd be sure the add the following bullet point:
Negotiated $26.2 billion acquisition by Microsoft.
How good is your LinkedIn Profile?
Click here to find out!